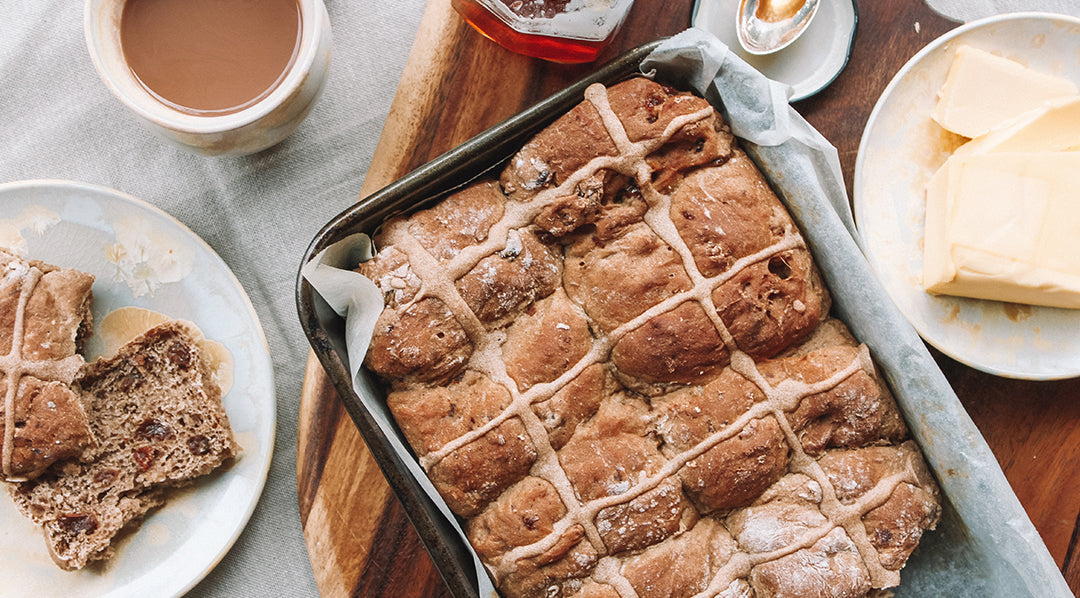 Happy Easter Hot Cross Buns
The Best Hot Cross Buns,
Recipe Compliments of Deborah Crosby.
Cook Time:20 mins
Serves:12 People
Ingredients
Dough: 1 cup of water 1 egg 1 tbs of milk powder 3 1/4 cups of flour 1 tsp Equagold Speculaas 1/2 tsp Equagold Cinnamon 1/4 tsp Ground Mace or nutmeg 1 and 1/2 tsp of Bakels Instant Yeast 1 tsp Equagold Himalayan Pink Salt 1 tbs honey 1 tbs butter Fruit: 3/4 cup of raisin and dried citrus peel soaked in boiling water with a splash of Cointreau or brandy. Soak for 15 mins
Method
Combine all of the above, in order, and kneed in a mixer or bread maker. Once the dough is mixed together, add the strained fruit and mix again. Allow to rise for approximately 1 hour or according to the dough settings on your bread maker. Your dough should have doubled in size. Remove from the pan and shape into approximately 12 even sized balls. Rise in a warm area for 20-30 mins. Brush the buns with a mix of 1/4 cup of boiling water and 2 tbs of white sugar to make a glaze. Make a paste from 1/2 cup of flour, 2 tsp of icing sugar and 1 tsp of Equagold vanilla extract, and enough milk to make a paste. Pipe crosses over the buns before baking. Bake at 200C for 17-20 mins or until golden and hollow when tapped. Disclaimer: This is my own recipe and also my first time making them with our new yeast (available at www.equagold.co.nz ).